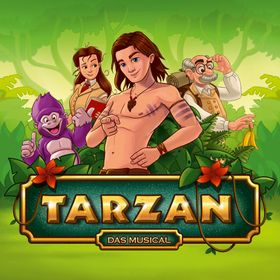 Sie wünschen sich farbenprächtiges Entertainment für die ganze Familie? Dann lädt Sie das Theater Liberi 2023 und 2024 herzlich zu "Tarzan – das Musical" ein. In mehreren deutschen und österreichischen Theatern können Sie die anrührende Love Story von Tarzan und Jane, in der zwei Lebenswelten kollidieren, hautnah erleben. Lassen Sie Ihr Herz erweichen und sichern Sie sich Ihre Tickets! 

Als Schimpansin Kala ein kleines Menschenkind im afrikanischen Dschungel findet, zieht sie den Kleinen als ihr eigenes Junges auf. Lediglich das Alphatier des Rudels Kerchak, lässt ihn seine Andersartigkeit spüren. Dennoch vergehen Jahre der Harmonie und Freundschaft, bis eines Tages ein Expeditionsteam mit Jane, Professor Porter und der zwielichtigen Olivia Clayton an der exotischen Küste landet. Ihre Ankunft lässt Tarzan begreifen, dass er seinen Platz in der Welt erst noch finden muss. 

"Tarzan – das Musical" basiert auf Edgar Rice Burroughs ursprünglicher Fabel "Tarzan of the Apes" von 1914. Seitdem wurde die Geschichte über 100 Mal neu verfilmt und aus immer wieder neuen Perspektiven auf den Theaterbühnen aufgeführt. Das Theater Liberi präsentiert nun seine Version der wundersamen Geschichte mitsamt perfektionierten Eigenkompositionen und großartigen Kostümen. In fabelhafter Besetzung erhalten Tarzan, Jane und Co. neue Gesichter.

Hier zeigt ein bestens ausgebildeter Musicalcast ein echtes Gefühlsspektakel, das bis zuletzt spannend bleibt. "Tarzan – das Musical" ist eine Freude für die ganze Familie. Jetzt Tickets holen!
Source: Reservix